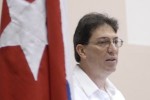 In comments made in Pretoria, Cuban Foreign Minister Bruno Rodríguez Parrilla highlighted his country's longstanding friendly links with Africa, forged in a history of struggle for common ideals.
Rodriguez's stay in that city is part of a tour that also includes Ethiopia, the Seychelles Islands, Harare, Zimbabwe and Angola.
Rodriguez met in this capital with leaders of the African National Congress and the Communist Party of South Africa, as well as delegates of Cuba solidarity organizations.
"We have been warmly welcomed by authorities of the nations we have visited and verified that the links between this continent and our country cannot be better.
They also strongly support the process of the updating of Cuba's economic model, including a gradual implementation of better business practices," Rodriguez told Prensa Latina.
He also met with Cuban diplomats and consular staff and members of Cuban cooperation missions in South Africa.