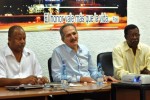 Brazilian Sports Minister Aldo Rebelo announced he will present the Cuban Soccer Federation a great project to develop soccer in Cuba, in his Tuesday statements.
"We want to establish a technical exchange for soccer players and coaches with a great Brazilian club, as for instance, Sao Paulo. Cuban soccer is promising. It could get much more developed," he said.
"We want to take the first steps but it is clear Cuba must develop its own playing style," he added.
During the day, Rebelo talked to several former sport stars of Cuba, including athletes and coaches, and expressed his admiration and respect for all of them, because they represent "honor and essence of the sport."
As part of the agreement, signed before, Brazil wants to take many of these Cuban Olympic and World Championship medallists to Brazil to give conferences.
For its part, Cuba will work to strengthen the Brazilian performance in other Olympic sports such as track and field and baseball.