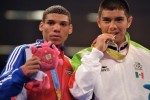 The national boxing team departed to Mexico for a training camp to prepare for the World Series, a semiprofessional tournament qualifying for the Olympic Games of Rio 2016.
Cuban Tamers, name of the team, will face the Mexico Warriors on August 29 and 30, at the Juan de la Barrera Gymnasium of the Federal District.
Together with the Olympic champion of 69 kilograms Roniel Iglesias, the team is formed by Yasnier Toledo (64), Carlos Banteur (75), Jose Angel Larduet (over 91), Erislandy Savon (91), Gerardo Cervantes (52), Ivan Oñate (60), Yosvany Veitia (49), Lazaro Alvarez (56) and Julio Cesar La Cruz (81kgs).
The last two were winners of the title at the last World championship of Baku 2011.
Despite the list of Olympic and World champions, Sanci Spiritus Veitia is one of the most expected in Mexican soil due to the revenge match he is to hold with Joselito Velásquez who beat the Caribbean in the Pan American Games in Guadalajara.
The training facing the Mexican team is agreed to five rounds of three minutes each, barechested and no head protectors, besides using heavier gloves than the regulation ones of the World Series.
The Boxing World Series will start on November 14, with the ten weight divisions which compete in Olympic and World championships.
The teams of Cuba and Mexico are in the same group, together with Poland, Russia, Kazhakstan, Azerbaidzhan squads. The other key is formed by Ukraine, Italy, Germany, the United States, Algeria and Argentina.