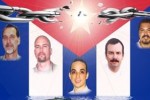 President of the Senate of Bolivia advocates for freedom of the Cuban Five.
The president of the Senate of Bolivia, Gabriela Montaño, sent a letter to the United States (U.S.) Vice President Joseph Biden, which advocates freedom of the Cuban Five, convicted in that country.
Montaño's letter, released here today, rejects "the unjust detention of the Cuban Gerardo Hernández, Ramón Labañino, Antonio Guerrero, Fernando Gonzalez and Rene Gonzalez, the latter serving the remainder of his probation in Cuba".
The Five, as they are known in the international campaign for his release, tried to prevent terrorist acts against the people of Cuba. "Their mission was the most sacred of all, protect lives," said the letter.
It adds that their actions do not constitute espionage, conspiracy, and never posed a threat to the national security of the United States government or its people.
It also recalls that in June 1998, the authorities of the Cuban State Security delivered to the Federal Bureau of Investigation (FBI) documents about terrorist activities against Cuba that were developed in the United States.
"In response, the letter highlights, these five Cuban citizens were detained and submitted to a judgment that can only be classified as political and extreme sentences were imposed."
According to the Senator, the United States chooses to ignore the recommendations of the Working Group on Arbitrary Detention of Human Rights Commission of the United Nations, which considers arbitrary the detention of the five Cuban citizens.
At the same time she adds that "the U.S. government does nothing to dismantle terrorist groups operating against Cuba and protects Posada Carriles, who has committed terrorist acts against the sister nation of Cuba".
"We call for the reunification of Gerardo Hernandez, Ramon Labañino, Antonio Guerrero and Fernando Gonzalez with their families," the letter urges.
Finally, Montaño warns that the struggle for the liberation of the Cuban Five is the fight of all and we will continue in it next to the Cuban people until they are released and return to their homeland.