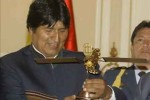 Bolivia's launch of a telecommunications satellite, the Túpac Katari, is a giant leap for modernization, according to the President of the Chamber of Deputies, Betty Tejada.
The satellite will have an impact not only on communications, but also on education and health, Tejada told Red Patria Nueva.
Tejada expressed her enthusiasm regarding the launch of the first Bolivian satellite tomorrow, describing it as a truly historical event.
A second station to monitor the Túpac Katari, built at a cost of about $17 million, is scheduled to open Thursday in La Guardia, Santa Cruz. It will alternate with another base in Amachuma, El Alto.
The Túpac Katari will be launched from the Xi Guan Space Center in China, and has the objective of bringing Internet access and mobile phone, television and radio services to all of Bolivia. The satellite's operations will start in April 2014 and is expected to reach the country's 337 municipalities.