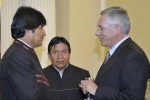 President of Bolivia, Evo Morales, appointed lawyer Enrique Rodriguez Veltzé today as Extraordinary Ambassador assigned with taking Bolivia's maritime demand against Chile to the International Court of Justice in the Hague.
Rodriguez, a man who functioned as interim president after a political crisis between June 9, 2005 and January 22, 2006, assured when assuming the position that he would do his best to bring justice to his country and achieve the return of the coastal territories seized by Chile at the end of the 19th Century.
"I have faith and hope that we will succeed with our demands seeking justice for the people of Bolivia," he said.
Rodriguez, also former president of the Supreme Court of Justice, also called on neighboring countries to show solidarity with the Bolivian cause.
"Neighboring countries should participate in the resolution, because this also concerns neighboring peoples and international organizations. We should all unite behind the cause to resolve this conflict," he said.
The government of Bolivia said Tuesday that Chilean President Sebastian Piñera had been stalling in order to block international pressure and did not have a genuine willingness to dialogue on the maritime conflict among the two nations.
At a press conference, Bolivian Defense Minister Ruben Saavedra refuted the statements of President Piñera after a political summit to debate the Bolivian demand for sovereign access to the Pacific Ocean.
Bolivia has been demanding that Chile return its access to the Pacific, lost in the war of 1879, when Chile seized 400 kilometers of coastline and 120,000 square kilometers of mining territory.
The Bolivian and Chilean governments have had suspended diplomatic relations since 1962, although they were reestablished for a three year period, between 1975 and 1978.