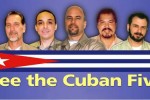 An evening in support of freedom for the Cuban antiterrorist fighters held prisoners in the United States was held in this capital in the presence of Health and Sports Minister Juan Carlos Calvimontes, who called for the release of those men.
Calvimontes was the keynote speaker at an event attended by Bolivian medical graduates in Cuba, their relatives, Cuban residents, and representatives of the missions of the Caribbean island in this country.
The minister stressed the importance of the solidarity campaign for the release of the Five, as the antiterrorist fighters are known, four of whom are about to mark 15 years of imprisonment in the United States, for the crime of infiltrating terrorist groups operating in southern Florida against Cuba.
At one moment during his speech at the plenary session, Calvimontes recalled his recent meeting in Cuba with Rene Gonzalez, the only one of the five who has been able to return home after completing his sentence followed by two years of parole which he was forced to serve in the U.S.
The evening began with a video in which Rene Gonzalez asked Cubans, and all good men and women worldwide to wear a yellow ribbon to raise the awareness of the American people about the cause of the anti-terrorists, who were arrested in September 1998.