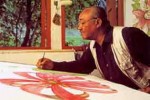 The exhibit "Martí entre Tala y Semilla" by Cuban artist Jorge Duporté was inaugurated today at the Gallery of the Botanic Garden in Berlin.
This is part of activities to mark the 160th birthday anniversary of Cuba's National Hero in this city.
During the inauguration, the Cultural Attaché of the Cuban Embassy, Hector Corcho, thanked organizers and extolled the artist's work.
President of the Association of Friendship Berlin-Cuba, Jutta Kauch, also appreciated the gesture of the Cuban artist and expressed satisfaction for the possibility to open this beautiful exhibit that will run through June and host a number of activities linked with Cuba.