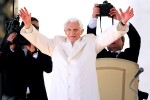 Pope Benedict XVI arrived in the Apoltolic Palace of the Castel Gandolfo, Rome, where he will temporarily stay from today, chosen day to formalize his resignation from the papacy.
The helicopter in which he traveled from the Vatican landed on the helipad of the Pontifical Villa at 17.24 pm local time (16.24 GMT).
He was welcomed by Cardinal Giuseppe Bertello, president of the Governorate of Vatican, body that manages the small state, and Archbishop Giuseppe Sciacca, Secretary of the Governorate.
From the balcony of Castel Gandolfo, the Bishop of Rome made his last public act, greeting thousands of faithful gathered in the central Square to give a final farewell.
With all my heart I bless you, we continue working together for the good of the Lord and for the good of the Church, he told the devotees from all over Italy and abroad.
Thank you for your love and support. May you always experience the joy that comes from putting Christ at the centre of your lives, wrote in his last tweet, just minutes after leaving the Vatican by helicopter.
Within days, 117 cardinals eligible to vote, by having less than 80 years, should choose in conclave in the Sistine Chapel, the new pope, who must have the majority of two thirds to win.