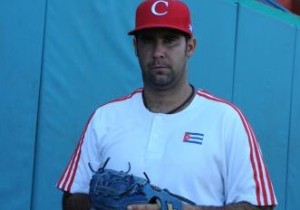 The website www.baseballdecuba.com, which last Tuesday released a false piece of news saying that Sancti Spiritus hurler Ismel Jiménez Santiago was in the Dominican Republic, offered an apology to the athlete and explained why the story was published.
The false story was immediately replicated by several other websites, but Ismel himself denied what was said, when interviewed by online Escambray newspaper at the local José Antonio Huelga stadium, where he's training for the upcoming 53rd Cuban Baseball National Season.
Escambray met the athlete again at his home, where he commented on the media hype derived from his supposed departure from the country. He also thanked all the people who supported him, both within and outside Sancti Spiritus. After knowing about the website's apology, Ismel said he hoped that no more similar rumours will be spread in this or any other site.
Escambray reproduces the full information released under the title: BaseballdeCuba apologizes, by Ray Otero.
The news was spread quickly this Tuesday by the same website that's writing to you now. In this sense, BaseballdeCuba.com acknowledges its mistake and offers an apology to hurler Ismel Jiménez and to all Cuban baseball followers, for having spread a rumour obtained from a source –an MLB agent– that assured what the website published.
It could be that Ismel is right and that source wants to do harm on a player that, as he said himself, has never thought of leaving Cuba. I will never know about that fact; neither will I ask about it. The truth is that BaseballdeCuba didn't intend to create any uproar with such news, since it doesn't make profits out of the work in the website, nobody pays it for releasing this kind of propaganda, nor –for the readers who know the site for many years– it has spent time on news like this one which really when released, only seek not to keep silent, and to inform all fans on the issue. In this case it was all the opposite and the mistake is recognized.
I feel for Cuban baseball like any other Cuban, and I respect every athlete's decision to play in Cuba or out of the island. Ismel Jiménez, as he said himself in an interview to journalist Elsa Ramos for Sancti Spiritus's Escambray journal, has never thought of leaving Cuba, where he confessed to feel happy, without caring for the millions that somebody can offer him. This we don't doubt at all, and we respect it, because we  have no right to comment on the athletes' personal decisions.
At least we could learned something from this journalistic slip, and we hope that the recent changes that took place in Cuba in the baseball area will go on, and hopefully future comments like the one we published, will be addressed by the Cuban media as quickly as they did now, in order to inform people coast to coast in Cuba and out of it, about the right or wrong of statements like the ones released in our site.
We apologize to all BaseballdeCuba readers and collaborators for an event that will never take place again, and once more, we convey our respects to hurler Ismel Jiménez.
As expected, the news was immediately removed from our website.