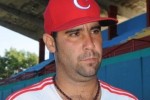 Sancti Spiritus hurler Ismel Jimenez denies the piece of news  spread by www.baseballdecuba.com entitled: Ismel Jimenez Leaves Cuba for a Future in the MLB.Ismel Jimenez showed up this morning at the Jose Antonio Huelga park, in Sancti Spiritus. Properly dressed to continue his trainings for the upcoming 53rd Cuban Baseball National Season, he repeats his throws in an attempt to gain shape and win the games Roosters might need.
With every movement he seems to release the tension after he knew the information circulating the world thanks to the digital site www.baseballdecuba.com, which had ensured Ismel had left Cuba to go for the MLB.

"I heard it because a journalist from our province knocked at my door early in the morning and told me that some page said I was in Dominican Republic;  I was really sorpised because I was having coffee when I got the news, but then I started laughing. Where do they get that from?", asks the hurler while providing himself the answer.
"Those are stories made up with the aim of destabilizing, of messing up with the people who had always given their best, and always have shown their fidelity towards the Revolution, which is in my blood".
"Help my team and represent my country for several years in different international competitions have always been my true dreams since I was a boy; I've met them so far and it's my plan to continue doing it".
"It's true that some others have left; everyone has his own way of thinking, but that has nothing to do with me".
The news reads about you seeking opportunities in the MLB…

"I just work, what i've got so far is what the officials think I deserve. I take the measure of increasing wages to athletes as a good idea. I'm not thinking on the millions, I play for my people, for my love to my country, to my family…that is worth more than all the money of the world".
With the 53rd Cuban Baseball National Season lying ahead, the player born to tourist-known Trinidad and currently resident in Sancti Spiritus, prefers to focus in the near future.
"I always set myself some challenges, and I already told my trainers: I want to win 12 games, and above all, classify, which is a team goal not a personal one; I'd also love to maintain the win-loss record (107-42), though that will take some more time to accomplish".
Many people doubt Sancti Spiritus may qualify this year…

"We lack some key figures, but there is a group of young players with encouraging signs, mainly in the pitching area; they complement our old ones: Eriel, Cepeda , Mendoza, Monteagudo…I think more in the unity and collectivism of the squad. That's our strength".
The ace of Sancti Spiritus and one of the best Cuban hurlers goes back to the false information spread this Wednesday, but he prefers to answer in a different way: "My response will not take the form of words, but of facts, throwing the first game vs. Guantanamo and being the corageous Ismel Jimenez Roosters need to qualify"