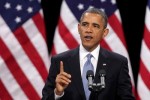 U.S. President Barack Obama has opened a window for more than 11 million undocumented immigrants living in this country, with the recognition in the political agenda for his second term of comprehensive immigration reform.
In Las Vegas, Nevada, on his first trip since he was sworn in on January 21 for a new term in the White House, the Democratic governor merely urged the Congress to pass a reform bill as soon as possible and did not present concrete ideas about the proposal which he seeks to implement.
Now the situation apparently has some points in its favor: while between 2009 and 2012 the Republican Congress constituted the only opposition to the subject of immigration reform and other initiatives, for the coming four years there may be a change.
Republicans, undoubtedly, are interested in paving the way for the elections of 2016 and for this it will be necessary to win over Latin voters, in other words, those who supported Obama decisively in 2008 and 2012. In addition, the majority of the current population of undocumented immigrants are Hispanics.
The good news is that – for the first time in many years – Republicans and Democrats seem to be ready to tackle this problem together.