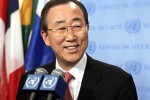 U.N. Secretary General Ban Ki-moon starts in Mali today the African tour of the Sub-Saharan region, one of the world's poorest areas.
According to statements of the top official to the press last week, the tour, which includes the participation of representatives of the World Bank, the African Union and the European Union, seeks to promote actions for security and fight poverty in the zone included in the Sahara Desert (north) and the Sudanese savannah (south).
"This is a fragile region, full of weapons and very vulnerable to terrorist and criminal networks and to the effects of climate change, so it needs collective support", the secretary general underlined referring to the tour that also includes Niger, Burkina Faso and Chad.
U.N. data on the sub-Saharan region show that more than 11 million people problems when having access to food, while five million children are in risk of suffering from malnutrition.
The U.N. expects to promote initiatives aiming at breaking the crisis cycle in that African area that includes Gambia, Senegal, Mauritania, Mali, Burkina Faso, Algeria, Nigeria, Cameroon, Niger, Chad, Eritrea, Sudan and South Sudan.