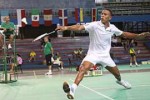 Cuban badminton athlete Osleni Guerrero (silver medal in the Pan American Games in Guadalajara, Mexico in 2011) classified today for the semifinals of the International GIRALDILLA Tournament, category Future Series, in Havana.
Guerrero got the second place, defeating Mexican Arturo Hernandez with 21-14 and 21-11 to face also Mexican Lino Muñoz at the next round Saturday.
Muñoz eliminated the 4th best placed player, Dominican Nelson Javier, by 21-18, 18-21 and 21-17.
Other classified players were Dominican William Cabrera, who defeated Mexican Andres Quadri 21-11, 11-21 and 21-10, and Czech Jan Frohlich, a winner against Dominican Freddy Lopez (21-13 and 21-11).
The female competition came with Peruvian Danica Nishimura, Daniela Macias and Camila Garcia, and Mexican Cynthia Gonzalez as the winners of the tickets for the semifinals.