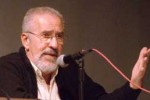 There should be more such awards to promote our culture, ideas, literature, and artistic and cultural identity, said Argentinean political scientist Atilio Boron after the announcement of the 2012 ALBA Literature and Arts Award.
Boron, who is part of the international jury for the award granted by the Bolivarian Alliance for the Peoples of Our America through the ALBA Cultural Project, spoke exclusively with Prensa Latina about the award, meant to recognize the lifetime work of important Latin American artists and intellectuals.
The winners will be announced today at the closing ceremony of the Third International Conference for World Equilibrium, taking place in this capital since Monday, January 28.
The prominent Argentinean scholar stated that everything that means promoting arts and literature in Latin America and the Caribbean should be supported, especially now that the region is threatened by the phenomenal advance of the Hollywood and imperial culture, which aims to crush all these manifestations.
"They (imperialism) want to standardize the world, doing it in a very homogeneous way, just like the homogeneous 'fast food,' and clothing that have been imposed worldwide; they want to do the same with culture," Boron said.
"What saves us?" Boron asked, and immediately concluded that "culture saves us, and Fidel Castro has said this many times."
The also professor of the Faculty of Social Sciences of the University of Buenos Aires recalled that Latin America may be subjected to economic, political and military domination, but "we continue to have a distinctive, brilliant culture."
Coinciding with the 160th anniversary of the birth of Cuban national hero Jose Marti, and the holding in Havana of an international event that brings together more than 800 participants from 44 countries, Boron said the ALBA Literature and Arts Award is in line with Marti's ideas.
Mario Benedetti (Uruguay), in 2007, Roberto Fernandez Retamar (Cuba), 2008; Frei Betto (Brazil), 2009; Luis Britto Garcia (Venezuela), 2010, and George Lamming (Barbados), in 2011, have earned the ALBA Literature Award.
The ALBA Arts Award was awarded to Oscar Niemeyer (Brazil), in 2007, Jorge Sanjines (Bolivia), 2008; Leon Ferrari (Argentina), 2009; Silvio Rodriguez (Cuba), 2010, and Santiago Garcia (Colombia), in 2011.