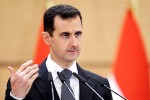 A press release issued by the Syrian Arab Republic presidency today denied that President Bashar al-Assad had been assasinated, as announced by social networks and varioius media sources on Sunday.
According to the online communiqué in its Facebook social network account, the Syrian presidency expressed surprise at the spread of the false information in newspapers and television channels.
Those media sources quoted a website called Hebreo, in which one of the president's bodyguards, Mahdi al-Yacoubi, of Iranian origin, had shot at him early Sunday morning, revealed the communiqué.
It stressed that the information was false, but refrained from providing further details, while a source close to the Syrian government denied the presence of any Iranian citizen in the president's team of bodyguards.