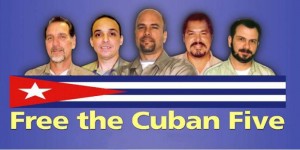 Antonio Guerrero, one of the Cuban anti-terrorist fighters still held in the United States, requested from the prison where he is being held, that his compatriots in Cuba tie yellow ribbons everywhere as a sign of solidarity and hope for the return of the men to their homeland.
With just a few days remaining before the 15th anniversary of the men's unjust imprisonment, Guerrero joined the call made by his compatriot Rene Gonzalez to draw attention to the case through this yellow ribbon initiative, which is particularly symbolic for the American people.
Therefore, "I endorse the words of René and wrote these simple verses, dedicated, with infinite appreciation and eternal gratitude," Guerrero said from the federal penitentiary in Marianna, Florida, in a message to which Prensa Latina had access.
The poem "Ata una cinta amarilla" (Tie a yellow ribbon) urges people everywhere to perform that action "for the world to see, like a flower extended, to the tip of a star." Guerrero ended his message: "five big hugs, we shall overcome."
In a speech broadcast on national television, Rene Gonzalez Sehwerert encouraged the Cubans to fill their country with yellow ribbons on September 12, to make it obvious that the people of that nation awaits four of its children, who are being held in the United States.
Gonzalez Sehwerert, Gerardo Hernandez, Ramon Labañino Salazar, Antonio Guerrero Rodriguez, and Fernando Gonzalez Llort were arrested on September 12, 1998 in Miami.
Rene completed his sentence and part of an additional punishment of supervised release, after which he was released in return for renouncing his U.S. citizenship.
The yellow ribbon is a traditional symbol for the American people, based on a legendary love song, whose story has been adapted, but has endured for more than a century.
The yellow ribbons have been replicated in social networks, especially Twitter and Facebook, and the solidarity movement aims to multiply their impact worldwide during the actions to be held as part of the campaign to demand the release of these men, which started September 5 and will end October 6.
The Five were detained in Miami while they were monitoring the movements and activities by violent groups and individuals engaged in planning terrorist actions against Cuba, like those that have left more than 5,000 deaths and permanently disabled people for more than 50 years.