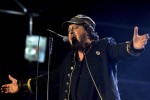 More than 20,000 people gathered at the University of the Arts,or ISA in spanish, to enjoy the concert of Italian rock singer Zucchero Fornaciari, which was dedicated to Cuba and the victims of hurricane Sandy.
With this concert, the famous European singer started a tour of the world which will take him to Australia, the U.S, Canada, Mexico, Venezuela, Brazil, Argentina, and various cities of the Old Continent.
Special guests to the concert included Cuban duo Buena Fe, which was in charge of opening of the free concert of the Italian rock star for the Cuban audience.
The concert was recorded by various countries' television channels and will be broadcast in different regions late this year or early January.
Zucchero's performance in Havana is also aimed at promoting his latest album, the Cuban Session, in which famous Cuban musicians take part.