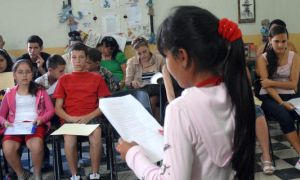 Several children initiating in the written art assembled as of Thursday in Sancti Spiritus, central Cuba, in the Provincial Debate Meeting for Children Writers during the celebration of the 21st edition of the International Book Fair.
By Yainerys Avila
Accompanied by their literary assessors, the future writers talked about their experiences and interchanged with renowned authors in Sancti Spiritus in a 1996-born scenario aimed at training possible creators and encouraging the reading habit.
According to the local writer Rigoberto Rodriguez Entenza, even if the kids do not follow a course of studies in the sphere, they can get into narrative techniques and some other important linguistic matters such as the punctuation marks, extremely useful for their lives.
The author referred also to the surprising quality of their works because, as these constitute an insight on the world surrounding them and catching their attention. Thus, you may find fabulous tales or poems related to books and family but always from their perspective and style.
As part of the activities of the Book Fair in Sancti Spiritus, writers in the territory also visited the Pediatric Hospital Jose Marti Perez so that the children in the facility could also be participants in Cuba's more important cultural event.