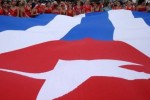 Solidarity activists from 16 countries will travel to Cuba to celebrate International Workers' Day on May 1 as an expression of their support of the social revolutionary process that began in the Caribbean nation in 1959.
According to a press release from the Havana-based Cuban Friendship Institute (ICAP), 135 activists from Mexico, Peru, Chile, Argentina, Colombia, El Salvador, Brazil, Nigeria, Ukraine, England, Turkey, Belarus, Finland, Japan, Bangladesh and Australia, have confirmed their participation in the celebrations in the Cuban capital as part of the May Day International Brigade.
The ICAP note points out that they will not only accompany the Cuban people in the traditional parade, but they will also participate in agricultural activities and will visit places of historic and social interest.
The activists will be officially welcomed on April 22 and they will be staying at the Julio Antonio Mella International Camp in the municipality of Caimito, province of Mayabeque.
They visitors will also receive detailed information on the case of the five Cuban antiterrorists who remain unjustly held in the United States since 1998 for trying to prevent terrorist actions against the Cuban people. (Taken from ACN)