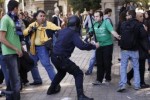 Spain's major trade unions today noted the mass participation of workers in the second general strike against the austerity policies implemented by the conservative government of Mariano Rajoy.
In a first assessment on the scope of the strike, which started at midnight on Wednesday, the Workers' Commissions (CC.OO), the General Union of Workers (UGT) and the Workers' Trade Union (USO) estimated the workers' participation in the strike at 80 percent.
Speaking in a news conference, the secretaries of the three labor organizations expressed satisfaction with the citizens' great response to the strike, which is slightly larger than participation in the March 29 strike, they noted.
According to CC.OO., UGT and USO, participation in the strike against the austerity plans implemented by the right-wing government of the Popular Party (PP) has even exceeded 90 percent in some economic sectors and autonomous communities.
Although minimum services are provided, as agreed upon with the government, the first hours of the strike, both at dawn and in the morning, seriously affected public transportation, especially buses and the Madrid subway.
The union leaders assured that the strike has paralyzed the auto industry, including major factories, as well as the iron and steel sector, infrastructure works and the construction materials industry.
It has also affected air transportation, where some 400 flights were cancelled at Barajas (Madrid) and El Prat (Barcelona) airports, and over 30 ports remain closed.