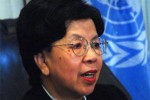 The General Director of the World Health Organization, Margaret Chan, and the director of the Pan American Health Organization, Mirta Roses, will meet with the Cuban Minister for Foreign Affairs Bruno Rodriguez.
According to the program, the international authorities will also visit, among other institutions, the Central Unit for Medical Collaboration and the Oncology and Radiobiology Institute to learn about Cuba's international collaboration and cancer programs, respectively.
On Friday, WHO director and the delegation accompanying her will participate in the closing session of the Eighth National Conference of Geriatrics and Gerontology underway in Havana.
Margaret Chan along with the WHO deputy general director, Anarfi Asamoa-Baah, and all six regional directors and other officials of this UN entity held in Havana, for the first time, an internal meeting of the WHO global policies group.
Cuban First VP Receives WHO Director General
Cuba's First Vice-President Jose Ramon Machado Ventura received this Thursday morning Margaret Chan, director-general of the World Health Organization (WHO) in Havana city.
During the meeting Machado Ventura and Dr Chan spoke of ways to increase the collaboration between the Cuban Public Health Ministry and WHO.
On behalf of WHO attended the meeting the director of the Pan-American Health Organization (PHO) Dr Mirtha Roses Periago, and PHO representative in Cuba Dr. Jose Luis Di Favio. On the Cuban part were present the Cuban Public Health Minister and Deputy Minister Roberto Morales Ojeda and Marcia Cobas Ruiz, respectively.
Dr Chan is in Cuba since March 26 along a delegation to celebrate for the first time in Latin America the meeting of the WHO's Group of Global Policies with the participation of the Regional Directors.