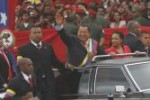 A parade for the 20th anniversary of the civil military uprising staged on February 04th 1992 began Saturday midday in Los Proceres Avenue, in Caracas, headed by Venezuelan President Hugo Chavez and the attendance of heads of state and government of the member states of the Bolivarian Alliance for the Peoples of Our America (ALBA).
"Greetings from my heart of soldier," Chavez said before beginning his tour through Los Proceres Avenue up to the presidential platform.
In the president's box are heads of State of Bolivia, Evo Morales; Cuba, Raul Castro; Haiti, Michel Martelly; and Nicaragua, Daniel Ortega, as well as the Prime Minister of Antigua and Barbuda, Baldwin Spencer. (Taken from AVN).