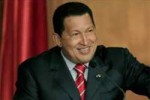 Venezuela's National Assembly approves on Thursday President Hugo Chavez' trip to Cuba, since it is a constitutionally-based procedure despite the arguments the opposition might present at the session.
According to the constitutional text, the leader can leave the country for five days, but if his stay extends, he must request the Parliament´s authorization, Deputy Fernando Soto Rojas, former chairman of the National Assembly, told Venezolana de Television (VTV).
Chavez will travel on Thursday or Friday to Havana, where he will be operated on after a new lesion was found last Saturday in the same area where a tumor was removed in June 2011.
At the Parliament´s session, the opposition could argue the need of the leader to delegate his responsibilities.
Soto Rojas believes taking this step will not be necessary since it would only be valid in case the leader is incapable to rule, a fact that is not applicable to Chavez, given that "he is in full possession of his mental and physical faculties".
In case this option is presented by the opposition, it would be evident that this political sector plans to generate destabilization and confusion in the country by using Chavez´ disease to sow chaos in Venezuela, Soto Rojas noted.
Taken from Prensa Latina