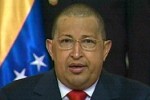 More than two million Venezuelans are registered in the great missions "Sons of Venezuela" and "Venezuela in Love Major" social programs aimed at eliminating extreme poverty in this country, President Hugo Chavez said Thursday.
During the second round of financial allocations to the beneficiaries of these government initiatives, Chavez said from the Miraflores Palace that those missions were mostly created last year to counteract the poverty rates in this country.
The Great Mission "Sons of Venezuela" aims at accelerating the reduction of the critical shortage in the country, through the protection of the most vulnerable sectors such as children, pregnant women and persons with disabilities.
The strategy "Venezuela in Love Major" benefits elderly people who do not receive retirement pensions from the Venezuelan Institute of Social Security (IVSS) because they do not pay quotes to that entity in the past.
So on Wednesday, 1,036,791 people were enrolled in the project "Venezuela in Love Major" while "Sons of Venezuela" had recorded 1,051,770, said Chavez.
Chavez repudiated the criticism of the Venezuelan opposition who accuse him of being "giving alms to the people" and clarified that these governmental inclusive plans only tries to give options to those most in need to put an end to inequality.