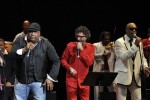 With the music of the Cuban orchestra Los Van Van, was inaugurated at Havana's Karl Marx Theater, the 34th International Festival of New Latin American Cinema.
While welcoming last night the participants of the Feast of Latin American Cinema, Alfredo Guevara, president of the festival, said that more than 500,000 spectators would be very active in these 10 days and later, when the festival tour the island, expanding its audience.
He added that the event will run through cities and villages, and if the whole plan is fulfilled, "will be prioritized many of our many universities and colleges".
Guevara described the new movie that takes place in Latin America as innovative and professional, owner of the expressive instrumental needed to reach the people.
He recalled that this year, the Latin American cinema has had a presence and spectacular success worldwide, what causes an increase of Cuban public expectations.
As unexpected surprise and breaking previous inaugurations schemes, Guevara announced the presence in the spectacle of the Cuban orchestra Los Van Van.
"It's a great surprise, said Guevara, we meet 34 years, and they 43, with the three and four playing charades, and as I insist on constant renewal, this can not be done, but at a good rhythm."
"We opened now the 34 International Festival of New Latin American Cinema, which has rhythm, honoring in its 43rd anniversary, a musical symbol of Cuba: Los Van Van".
The legendary Cuban orchestra made the audience stand up, performing classics from his repertoire as La candela, Pastorita quiere guararey, Chirrin chirrán, and Que traigo, among others.
A moment of great excitement took place when they showed also as surprise, the Argentine singer Fito Paez, invited to the festival, who shared, dressed all in red, with the iconic grouping led by Juan Formell, joining the orchestra with improvisations and dances that earned him applauses from the audience.
With emotional words, Formell said it was a tremendous honor to have been invited to the opening of the festival, "an idea of our friend Alfredo Guevara", he said.
"We will be eternally grateful because he is getting us in touch with all Latin America. Here there are representatives of the world and we are very happy to celebrate our 43rd birthday here at the film festival", said the director of Van Van.
The opening day ended with the screening of the documentary Silvio Rodriguez Ojalá (Hopefully), of the Spanish Nico Garcia.