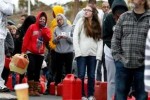 President Barack Obama called upon people on Saturday to make donations to the US Red Cross to help millions of citizens affected by Hurricane Sandy, which killed 106 people this week in the United States and caused damage estimated at more than 50 billion dollars.
In his regular weekly message to the nation on radio and the Internet, three days before the presidential election in the United States, Obama promised to assist those affected by the hurricane immediately, and ordered to start recuperation works.
Obama said the people are trying to recuperate from "the worst storm even known in U.S. history". He and Republican Governor Chris Christie toured the state of New Jersey.
Obama said he was in direct contact with local authorities in the hurricane-hit areas, adding that he would not let bureaucracy to hinder the arrival of the aid.
The U.S. president also referred to previous measures by the Federal Emergency Agency to distribute the aid, including food, water and other items.
In areas in New Jersey, New York and Washington, hundreds of thousands of people still lack electricity, and federal assistance has not arrived very fluently, local media reported.