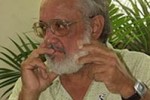 It is important that the progressive movement in the United States strengthens to influence the government decisions on some issues, specifically regarding Cuba, affirmed president of Antonio Maceo brigade Andres Gomez.
In statements to Prensa Latina, the head of the solidarity group with Cuba based on U.S. soil supported his affirmation noting the U.S. government maintains a permanent aggression policy against Cuba.
Washington promotes state terrorism against Cuba and backs the genocide policy, so a counterpart of the solidarity and anti-imperialist movement is necessary.
Gomez mentioned the inclusion of Cuba in a list of terrorist countries the United States devises, describing this action as a grotesque lie.
The Antonio Maceo brigade was founded 35 years ago to support the Cuban cause from U.S. soil and some of its members are currently visiting the island.