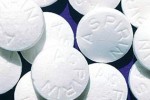 Aspirin use for at least 10 years seems to increase the risk of age-related macular degeneration (AMD), says an article released in the JAMA magazine.
To reach these conclusions, researchers from the School of Medicine and Public Health at the Wisconsin-Madison University, in the United States, conducted a study to examine the association between regular aspirin use with the incidence of AMD.
Tests were performed every five years over a 20-year period, and included nearly 5,000 people aged 43-86.
In reviewing the findings, experts demonstrated a small but statistically significant association between regular aspirin use and the incidence of neovascular AMD.
However, they said that it is necessary to confirm their observations and identify causal mechanisms, since it may be important to the development of methods to block this effect and prevent or delay the disease.
AMD is a disease causing blindness, and its incidence grows with the increase in life expectancy and regular aspirin regular use, which is widespread in the elderly to prevent cardiovascular diseases, scientists added.