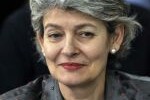 The Director-General of the United Nations Educational, Scientific and Cultural Organization (UNESCO), Irina Bokova, highlighted the support of the Cuban Government to the scientific development of the country.
During a visit to the Center for Genetic Engineering and Biotechnology (ICGEB), the head of the specialized agency of the United Nations was aware of the work in that complex with a growing reputation for drug development and highly competitive products internationally.
The official was impressed with the IGBC investigations in developing therapeutic vaccines for cancer and the results of the application of the Heberprot-P vaccine for the treatment of diabetic foot ulcers.
The director of that institution, Luis Herrera, told Bokova that the biopharmaceutical sector in Cuba is the second largest exporter of material goods.
The Cuban economy is now of service and must be directed to where the production of material goods increases, pointed out Herrera.
The expert lamented that the economic blockade would hamper exchange of knowledge and application of products between the U.S. and Cuba.
Bokova said that UNESCO shares the view that scientific research should contribute to development.
She also stated that one of the objectives of that entity is that developing countries have their own national research projects.