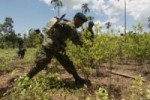 The representative of the United Nations Office on Drugs and Crime (UNODC), Cesar Guedes, classified as successful the Bolivian fight against that scourge in 2011.Guedes told reporters that Bolivia continues working in the fight against drug trafficking and that it is important to praise its efforts.
Last year was very successful for this Latin American country in the eradication of illegal coca plantations, dismantling of gangs, destruction of illegal labs, and the seizure of drugs in its territory, said the UNODC representative in Bolivia.
He considered that the Bolivian anti-drug fight should be supported by all the nations worldwide, including the US and the European nations, because all of them have the same problem.
Bolivian authorities eradicated 10,509 hectares of illegal coca plantations last year, dismantled more than 5000 illegal labs and seized 33.8 tons of cocaine and 382 tons of marihuana in 11,800 operations.  (Taken from PL)