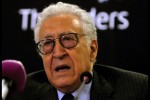 The United Nations and Arab League Envoy for Syria, Lakhdar Brahimi, will report on Wednesday in a video conference from Cairo to the Security Council on his mission to stop violence at the Middle East country, said spokesman Martin Nesirky.
The emisary just held an interview with President Bashar al-Assad and representatives of political and social sectors to negotiate a political solution for the crisis and proposed a truce for Eid Al-Adha (celebration of sacrifice) from Friday.
Al Assad decreed this Tuesday a general amnesty for crimes prior to October 23rd, even traded the death penalty for other sentences.
Brahimi concluded in Damascus a tour through Saudi Arabia, Turkey, Iran, Iraq, Eigypt and Lebanon, and plans to visit Russia next week.
The 15-member Security Council holds today private hearings on the situation in Syria and readies a declaration in support of the truce initiative and of halting violence during the religious event.
Diplomatic sources at the UN said they may use the eventual truce to expand the cease-fire to help start political dialogue in Syria.