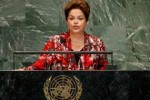 Brazil's President Dilma Rousseff requested on Tuesday at the UN to put an end to the U.S. economic, financial and trade blockade against Cuba, that has been affecting this country for decades.
"It is time to end this anachronism, condemned by the immense majority of U.N. member countries," affirmed Rousseff at the 67th session of the UN General Assembly.
On the other hand, Rousseff criticized the policies of wealthy countries in tackling the international financial crisis and defended the right of emerging nations to protect their economies.
The president charged that monetary policy can not be the sole response to the increasing unemployment, poverty and discouragement affecting the most vulnerable sectors of the population.