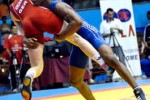 More than 25 wrestlers of the United States will participate in the Granma-Cerro Pelado International Tournament, from February 10-16, the media reported on Tuesday.
The U.S. representatives, the largest delegation in the competition, will take part in the two styles, Greco-Roman and Free, according to a report of the Jit on-line newspaper.
Despite no data is yet available on the wrestlers' names, the U.S. delegation is likely to include several world medalists.
For Cuba is an excellent opportunity, since its best wrestlers are preparing for the Pan American Championships and the regional qualifying tourney for the 2012 Olympics in London, the two events scheduled for the coming month in the U.S.
The Granma-Cerro Pelado tournament already includes the participation of representatives from the Dominican Republic, France, Italy, Germany, Argentina, Canada, Ecuador, Tajikistan and Russia.
Norway, Lithuania and Egypt are also enrolled and will participate for the first time.
Taken from Prensa Latina