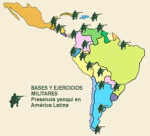 U.S. activists continue their protests on Sunday to demand that the Obama administration close the former School of the Americas, and withdraw the Pentagon's military bases in Latin America and the world.
Digital media echoed this campaign, which began on November 16 and will extend until February 21, 2013.
The School of the Americas, founded in 1946 in Fort Benning, Georgia, was named Institute for Cooperation and Security in the Western Hemisphere in 2000.
However, participants say it is only a formal change, because its essence remains the same, according to the website of HispanTV. Since the beginning, the institution served to train and finance the forces that have supported dictatorships in the region.
The demonstrations are organized by the School of the Americas Watch, founded in 1990 to oppose Washington's military activities in this geographic area and to demand the closure of the training center.