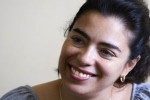 UN High Commissioner for Human Rights Navy Pillay met in Geneva with Adriana Perez, the wife of Gerardo Hernandez, one of the five Cuban antiterrorists "internationally known as the Cuban Five" who were arrested and condemned in the United States more than a decade ago.
The Cuban Five were unjustly incarcerated in 1998 for trying to prevent terrorist actions organized by anti-Cuba extremist groups in South Florida against the Caribbean nation. Hernandez, Antonio Guerrero, Ramon Labañino, and Fernando Gonzalez remain in prison, while Rene Gonzalez was released on parole in October 2011, but he was forced to stay in U.S. territory for three years.
According to Prensa Latina news agency, Adriana referred to the health damage caused to the five Cubans by nearly 14 years in prison, plus the suffering caused to their relatives and themselves for having been separated for such a long time and under all kinds of limitations.
Adriana also told the High Commissioner about the need for her direct interceding in favor of a motion presented by the defense attorney of Rene Gonzalez so that he can travel to Cuba to visit his brother, who is in serious health condition.
Taken from AIN