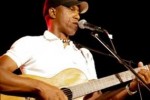 Cuban singer Tony Avila is in France to offer a unique concert with the band Toure Kunda, one of the main referents of African music.
The presentation will be on December 4 at the Center for the Arts of Enghien-les-Bains, in the north of Paris, as part of a project between France, Cuba and Senegal.
The presentation will coincide with the opening in Dakar, capital of Senegal, of the VI Summit of African Cities, which motto is "Building Africa from its Territories".
The artistic direction of the project is responsibility of Dominique Roland, who in 2010 organized a tribute to the prima ballerina Alicia Alonso on her 90th birthday and he has brought many Cuban musicians to Paris, including Ivete Cepeda, Adalberto Alvarez y su Son, Van Van, Omara Portuondo and Legends of Cuba.