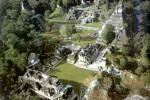 Tikal, the largest Maya city discovered so far, is attracting the attention of thousands of Guatemalans and foreigners who will arrive there by plane or car to attend the ceremonies to welcome the new era, according to the Maya calendar.The event, which takes place every 5,125 years, according to the Maya view of the world, will be followed by millions of people all over the world thanks to the communication technologies.
However, many decided to buy their tickets to be on that date in Guatemala, the heart of the Maya world, as promoted by the Guatemalan Tourism Institute (INGUAT) in 2012.
The INGUAT estimates that 150,000-200,000 foreign tourists will arrive in this Central American country to participate in the festivities, to be held in 13 archeological sites.
Some 3,000 travelers are expected to arrive in Tikal alone, some 500 kilometers north of this capital, according to the INGUAT.
According to history, the monumental architecture of that place dates from the 4th century B.C. and reached its maximum development during the Classic Period, between the years 200 and 900 A.C.
During that period, the city of Tikal, which means "in the well of water" in the Yucatan Maya language, and "place of voices" or "place of languages" in the Itza Maya language, dominated a vast part of the Maya region in the political, economic and military fields.
The United Nations Educational, Scientific and Cultural Organization (UNESCO) declared Tikal Humankind's Heritage Site in 1979.