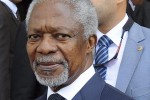 The Syrian government accepted the plan proposed by the United Nations-Arab League (AL) special envoy, Kofi Annan, to solve the conflict in that Arab nation, the world organization stated on Tuesday.
The office of the UN spokesman said in a press release that Syrian authorities' decision with respect to the six-item initiative presented by Annan was informed in writing.
The former UN secretary general urged the government of Syrian President Bashar al-Assad to keep its commitment "with immediate effect."
Annan stated that the Syrian government's response to those suggestions are "an important step to stop violence and bloodshed" in that country.
The document also allows supporting those affected by the crisis and creates "a favorable atmosphere for political dialogue to satisfy the legitimate aspirations of the Syrian people," he noted.
The implementation of the proposal is instrumental not only for the Syrian people, trapped in this tragedy, but also for the region and the international community, Annan said, according to the announcement, signed by Annan's official spokesman, Ahmad Fawzi.
The UN-AL envoy will act urgently with "all parties to ensure the implementation of the plan at all levels," states the release.  (Taken from PL)