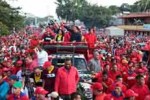 Venezuelan president Hugo Chavez, has 55.1 percent share of those who plan to vote, 11 days before the presidential elections, according to the latest study by the International Consulting Services (ICS).
During a press conference, ICS director, Juan Scorza, said that the opposition candidate Henrique Capriles, of the so-called Democratic Unity Table, would garner 35.4 percent of the votes.
According to the survey, which involved interviews of 2,200 people between September 10 and 17 in 20 states throughout the country, 6.4 percent of respondents said they will not vote in the elections on October 7, and 3.1 percent did not know or did not answer.
Scorza ruled out a technical draw and said that there is "a significant gap" (19.7 percent) between both candidates, a few days before the election campaign ends and the inhabitants of this South American nation exercise their right to vote.
He added that, if one takes into account only those who will vote for Chavez or Capriles, there is a gap in favor of the president which amounts to 21.6 percent, as 60.8 would vote for him versus the 39.2 percent that would vote for the other aspirant.
In monthly studies conducted by the pollster since July 2011, the "wide, solid and stable" distance between the two candidates is obvious, he said.