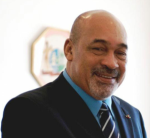 Suriname President Desiré Delano Bouterse arrived in Santiago de Cuba this Sunday, where he expressed his solidarity in view of the damages left by hurricane Sandy.
Upon his arrival, the head of state affirmed to be confident on the quick recovery of that territory, which was hit the most by the hurricane that affected the eastern Cuban provinces last October 25th.
Cuba has offered assistance to the whole world, that's why many countries have been concerned about what happened here, and so has Suriname, he pointed out. Bouterse's tight agenda includes a donation from his country to the hurricane affected people.
The visitor was welcomed at the Antonio Maceo International Airport by local authorities led by Lazaro Exposito, first secretary of the Communist Party of Cuba in the territory, along with Reinaldo García, head of local government.
(…)
Cuba and Suriname established diplomatic relations in May 1979, with main emphasis in social services.
Havana started in 1998 its collaboration with Suriname in health care and today tens of Cuban professionals are working at the South American country, while more than 50 Suriname nationals have been trained in Cuban universities from 1961.
(translation: Escambray and Prensa Latina)