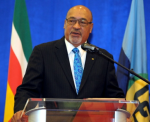 Suriname President Desiré Delano Bouterse is to arrive on Sunday to Cuba to convey his country's solidarity with the Caribbean Island in the wake of damages caused by Hurricane Sandy, said official sources.
On his short visit, the head of State will hand over donations for the eastern provinces, the hardest hit by the passage of the hurricane on October 25th, killing 11 peoples and causing heavy damages to the infrastructure in houses, roads and the agribusiness, not to mention the electricity grid.
Bouterse is also to meet with Cuban authorities, says the official note circulated on Saturday.
Cuba and Suriname established diplomatic relations in May 1979, with main emphasis in social services.
Havana started in 1998 its collaboration with Suriname in health care and today tens of Cuban professionals are working at the South American country, while more than 50 Suriname nationals have been trained in Cuban universities from 1961.