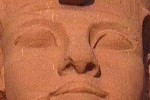 German archaeologists have excavated a granite statue of King Ramses II, covered by sand for millions of years in an area of the Lower Egypt Sector, announced official sources.
Adel Hussein, director of the Lower Egypt sector for the Antiquities Ministry, said the 2.47-meter granite statue shows Ramses II sitting between the goddess Bastit and the god Atum.
Ramses II is one of the most significant rulers in Egyptian history and ruled Egypt between 1279 and 1213 B.C.