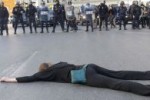 Thousands of students took to the streets on Wednesday in some 20 Spanish cities to protest against budget cuts in health and education implemented by authorities.Except for Barcelona, where the police intervened because of the burning of trash containers, The protests were carried out peacefully in cities such as Valencia and Madrid.
The Union of Students (SE) called on Wednesday for a day of struggle to show solidarity with the students of the Valencian school Luis Vives, who were repressed by riot police during a demonstration on February 20.
Parents and teachers associations, who demand a high-quality public education, joined the demonstration that included student meetings in colleges and universities and marches.
In Madrid's Puerta del Sol, a symbol of the 15-M Movement, the SE leader, Tohil Delgado, warned that young Spanish people will not accept to be the ones to pay for an economic crisis they did not generate.  (Taken from PL)