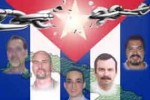 New actions to support the cause of the Cuban Five spread worldwide.
The International Committee for the Freedom of the Cuban Five reiterated today its call to the world for solidarity with those anti-terrorist fighters, and announced a new action in support from the United States.
In this week of November, the well known professor Peter Phillips joined the international campaign of The 5th each month for the Cuban Five and sent a letter to President Barack Obama to demand justice in this case, the organization said.
Phillips is a Sociology Professor at Sonoma State University in California, and president of the Media Freedom Foundation.
He was also director of the Project Censored from 1996 to 2010. This program annually publishes a book with the 25 most censured stories by the corporate media.
President Obama you have the power to pardon and release five political prisoners held by the Bureau of Prisons in the United States, the letter notes.
Antonio Guerrero Rodriguez, Fernando Gonzalez Llort, Gerardo Hernandez Nordelo, Ramon Labañino Salazar and Rene Gonzalez Sehwerert have been imprisoned by U.S. authorities with false charges of conspiracy, Phillips' text says.
It is time already to normalize relations between Cuba and the U.S., and put an end to attempts by Washington to undermine the Cuban government, he adds in the letter.
And stresses that "You (Obama) can give a step forward, immediately after the elections of November 6, developing a policy of positive relationship between Cuba and the United States and pardoning the Cuban Five."