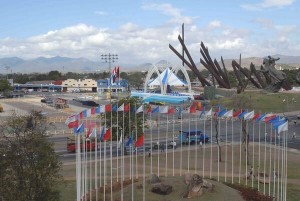 The Antonio Maceo  Revolution Square and the National Sanctuary of Virgin of Charity of El Cobre, in Santiago de Cuba,  are prepared to welcome Pope Benedict XVI, who will begin a three day visit to Cuba on Monday, March 26.
In statements to the press in the Eastern city, the Archbishop office's event organizer dealing with works to receive the Pontiff, Juan Ramón Navarro, said that the Sanctuary went through a general renovation and a safe and proper residence was built close to it for the Holly Father and his acolytes to rest.
Referring to the Square, Navarro said that it was the best place for the mass that the Pontiff is scheduled to give upon arriving in Santiago de Cuba, due to its dimensions and available infrastructure.
Other preparations for the religious ceremony include the location of the coat of arms of Cuba and the Pope, as well as the carpets on the stars and the stand.
Cuban Foreign Minister, Bruno Rodríguez, simultaneously opened the press centers located in Havana and Santiago de Cuba to give coverage to the Pope's visit. (Taken from RHC)
[nggallery id=14]