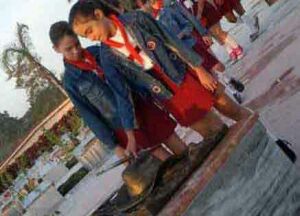 Children, youth and workers from Yaguajay, a northern municipality in Sancti Spiritus, central Cuba, were protagonists in the homage paid to Commander Camilo Cienfuegos in the 80th anniversary of his birth.
By Oscar Alfonso Sosa
The commemoration started in Las Villas North Front Mausoleum where wreaths where placed in the niches of the hero and his fellow combatants. The rooms of the National Museum carrying his name were turned into plastic arts workshops where students from all over the territory expressed how they saw Camilo.
They also planted the royal palm tree symbolizing the 80th anniversary of the legendary Cuban hero.
The homage also included the presentation of books related to Camilo Cienfuegos and to his beloved friend Ernesto Che Guevara, and an artistic commemoration in the memorial's square.
People in Yaguajay prepared to honor Camilo in his 80th anniversary. Among the activities they carried out, outstands the maintenance of the primary school Yagujay's Hero, which was an old promise of Camilo to Meneses residents.
Camilo was one of the 82 men on the Granma Yacht who landed in eastern Cuba on December 2, 1956. The objective of the expedition was to start an armed uprising and overthrow Dictator Fulgencio Batista.
The extent of his courage and heroic actions as a Rebel Army member earned him recognition and respect from his comrades in arms, including Ernesto Che Guevara, who described him as "the most brilliant man of all guerrilla fighters."