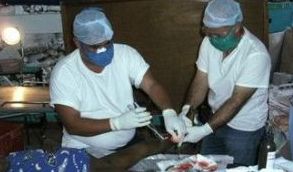 Although the greater number of health professionals in the Cuban central province of Sancti Spiritus are currently working in international missions in the Bolivarian Republic of Venezuela, their echoes reach also the distant Africa.
More than 2 000 collaborators labor in 46 countries, outstanding Bolivia, Angola, Guatemala, Haiti, Honduras and Guatemala.
Sancti Spiritus collaboration not only provides medical care, as the staff in the sector, mainly specialists who hold a high scientific level, also develops a teaching mission in Ecuador, Venezuela and Haiti with the objective of contributing to the training of doctors in these countries. It is precisely in Haiti, where the work of Sancti Spiritus doctors have persisted since the 80's when they were summoned to help end the cholera epidemic there.
Pages of solidarity are inscribed inside the very island, because more than 700 physicians from around thirty nations are trained at Sancti Spiritus Medical University  where they are prepared to develop community medicine in each of their countries of origin.
The health sector in the province counts on more than 20 000 workers, and it includes mostly doctors, as well as dentists, nurses, psychologists and health technicians.