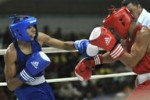 Sancti Spiritus boxer Yosvany Veitia is part of the Cuban team, headed by world champions Lazaro Alvarez and Julio Cesar La Cruz, that is to participate in the Bocskai Memorial Tournament in Debrecen, Hungary between February 8th to 11th.
Veitia is one of the six Cuban boxers already classified to London 2012 Olympics. Thus, the importance of this event, as it would allow him to face tough rivals in the debut of his training for a relevant competition year.
Besides the trio conformed by Veitia (49kg), Alvarez (56) and La Cruz (81), other London 2012 participants are Robeisis Ramirez (52), Jose Angel Larduet (91) and Erislandy Savon (+91), reports the Cuban News Agency.
The rest of the athletes commanded by Rolando Acebal, Julio Mena and Raul Fernandez are Olympic runners up Carlos Banteur (69) and Emilio Correa (75) and Olympic bronze Roniel Iglesias (64).
We are only a few months away London 2012 Olympics and we have prepared well our work towards that event and the qualifying stage in May, in Rio de Janeiro, where we are to complete the team, explained Cuban commissioner Alberto Puig.
The Hungarian event might gather some 140 athletes from 22 nations of the world and will allow Correa and Savon to defend the titles conquered in the past edition. Toledo (60kg) was second, and Robeisis, La Cruz and Iglesias got bronze.