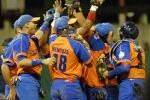 Sancti Spiritus Roosters are hosts to Las Tunas Woodcutters as actions continue on Tuesday in the 51st Cuban Baseball National Season. The lumbermen top the East along with Villa Clara Orangemen by holding a 33-20 record.
Sancti Spiritus team has not yet stabilize its performance even if it manage to get a positive record (5-4) in the last three subseries vs. powerful squads such as Villa Clara, Pinar del Rio and Santiago de Cuba, three of the so-called "classic" in the Cuban baseball.
In the offensive area Las Tunas exceeds Roosters (272) in 24 points. Defence favors the visiting team with a 977 ave for a 966 of locals, and the pitching is also better for Woodcutters with a 3, 67 ERA for a 4, 00.
On Tuesday an impressive duel might take place between the two pitchers with most victories in the current tournament: Roosters Ismel Jimenez (10w-3l; 2, 35 ERA) and Lumbermen Yoelkis Cruz (9w-3l; 3, 65).
In the three-game series played in Las tunas, Roosters took the best part by defeating their adversaries two times 4×2 and 10×1, while losing 1-0.
With 42 games left to the end of the championship, Sancti Spiritus needs only to win because they can be out of play off for the first time after qualifying in the past 8 seasons. Roosters are placed 5th in the West standings, only half a game from 4th positioned Pinar del Rio.
By Randy Vasconcelos